Member Bio
Joined

May 20, 2007
Messages

23,130
Reaction score

58,655
Location
Edit to Add: Museum, other than the ceiling (what's with the TTC's lack of awareness above?) is a very effective remake of one of the most sterile stations of theirs ever. The colours are warm, the concept of the sculptured columns brilliant. I wonder if outside financing helped with that?
Toronto Community Foundation was the backer there. I don't know if they ever contemplated taking the new finishes above platform level (they should have), but its moot.
The original design called for an attractive new ceiling and light fixture arrangement over the platform. That was nixed due to budget.
Original proposal here: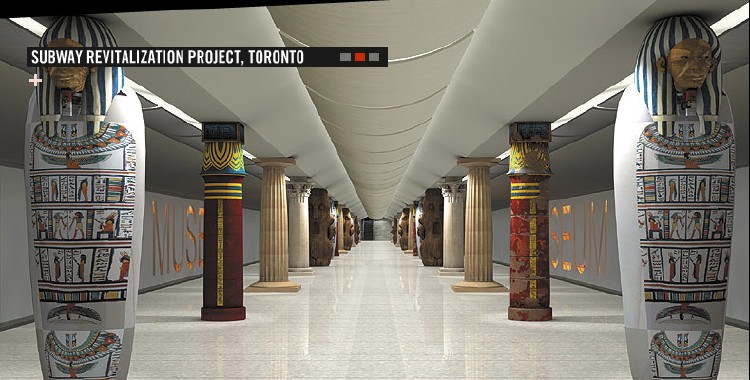 Images via houston architecture.com
A real shame as it takes away from the design.
By contrast, this is what we got:
Image from nilescribes.org
There was no intention that I'm aware of, to consider the over-track ceiling, which again mars the design, though not as much.
They also didn't change out the flooring at all.
It was nice as far as it went, but didn't go far enough.
Museum also has an elevator and second exit coming; would have made sense to tackle these together if at all possible.
Personally I would have loved to have seen the wall finishes and over-track ceilings match the Avenue Lobby for the museum.
Image: from urbaneer.com
I know, I know.....I just sent the budget from 5M to 45M LOL
Last edited: