Member Bio
Joined

Apr 24, 2007
Messages

10,940
Reaction score

99
Location
There has been some debate about the state of Yonge Street downtown, roughly from Bloor down. Some advocate running some of the businesses off the street, yet others suggest near total gentrification of the strip.
I've been very anxious to open a thread to discuss this area for some time now. I'm very passionate about Yonge Street, I think it's one of our great walking streets which attract tens of thousands of people every day to shop, eat, walk, people watch, parade and protest.
Like other great walking streets in our city Yonge Street offers something for everyone; everything from tons of great eateries, tattooing, computer shops, hair salons, art supplies, psychics, bargain stores, adult entertainment venues, alternative clothing shops and on & on. On top of these businesses house hundreds of apartments on 2nd, 3rd & 4th floor levels of many 19th & 20th century buildings. Many of the businesses along this street would not and could not survive in a high rent shopping mall, nor would many of them even fit into that type of atmosphere. That's what makes Yonge Street (along with other great outdoor shopping strips) unique, and that's part of what I love about it.
There's no doubt that some of the buildings are rundown and in need of some TLC. Paint hides original brick in some cases and attempts to modernize some storefronts hide what once was (see Sam The Record Man thread as a recent example).
Recently, comments were made that everything except 2 or 3 buildings should be bulldozed between Bloor & Charles Sts. which is what finally set me off.
Do you have eyes?!
All city block just south of Bloor is begging for demolition . It should be incorporated as a podium in the future highrise development on the South-West corner of Younge & Bloor.
I'm for heritage peservation too, but most ( with 2 or 3 exceptions) of the sructures on THIS city block have nothing to do with heritage . They are cheap , shabby and out of scale even with 3-4 storey neigboring heritage buildings...
Finally, Yonge Street north of Bloor is just as walkable, and just as unique only generally the businesses are more high end to reflect the neighbourhoods they run through and buildings are usually, but not always, better maintained.
So I start off the thread by asking, what should be saved in this area? And let's discuss Yonge Street, south of Bloor.
Click on the thumbnail to enlarge, then click again on the image for full size.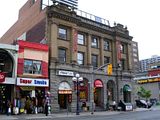 Last edited: