Member Bio
Joined

Apr 26, 2007
Messages

447
Reaction score

0
The first part was meant to be sarcastic. The second part was alluding to the fact that there will no doubt be more cases of private interests trying to take advantage of the interest in transit and rail projects.
I actually have no idea whether the Montreal airport shuttle is just a Bleu Vingt-deux. I have tried to find as much information as possible on its status to this point and there is almost nothing about who might operate it or how a link between PET and downtown will be constructed (with the exception of the part being constructed with the Dorval interchange). The fact that AMT was excluded from a relocated PET train station despite the fact it was originally planned to relocate along with VIA does make me suspicous. The other part of the project that it is odd is how the eastern approach to the new PET terminal is well designed and thoughout, yet the western approach really poorly done, almost as an after thought (I will post a picture of it shortly). It seems to have been designed with the shuttle in mind and only minimal consideration for VIA (and now nothing for AMT).
Edit: Here are two pictures of the proposed alignment. It is in red on the first picture, and in pink on the second.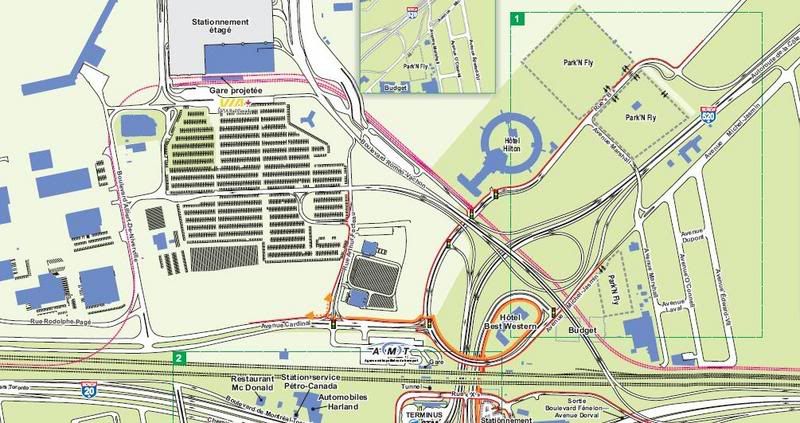 You can see how the approach from the east (the route the shuttle will serve) is well designed with nice geometry. The approach from the west could not be a lazier design. This is the other reason why I wonder what exactly is going on with this project. Had the west side been designed better it could have been a wonderfully functioning station with almost no lose in travel save perhaps a minute. Instead, this is what is proposed.