Member Bio
Joined

Feb 3, 2010
Messages

17
Reaction score

0
Location
Ah, the good old days, when thousands would turn out for the crowning of Miss Toronto and she'd become an immediate media star. Let's look back at a few of the nubile young ladies and their activities around town.
The very first Miss Toronto, crowned at Sunnyside in 1926
Exhibition Stadium, with nice view of the CNE grounds in 1936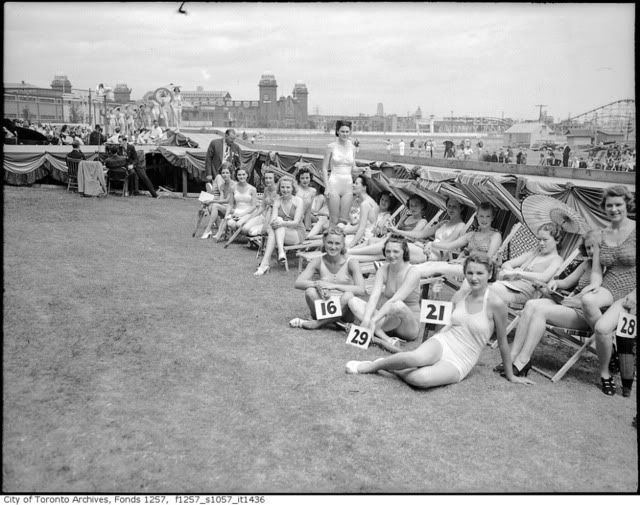 Miss Toronto 1937, apparently braless in a Toronto Maple Leafs Baseball club uniform, posing in an alley
The CNE was also the venue for the 1942 Miss War Worker pageant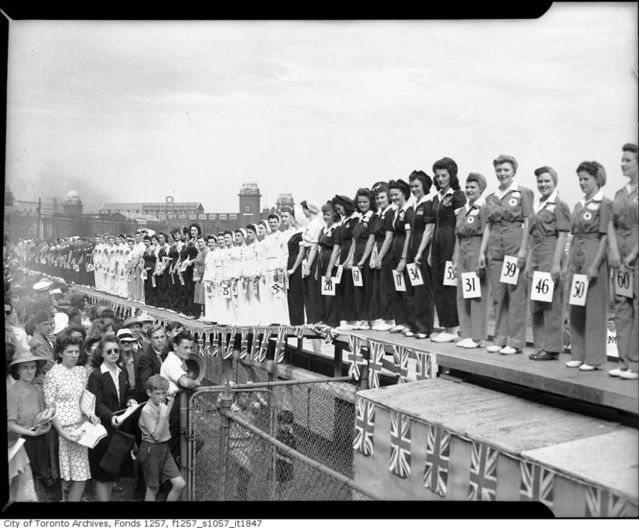 The crowd was bigger for Miss Toronto than some of the rock concerts I attended there in the 60s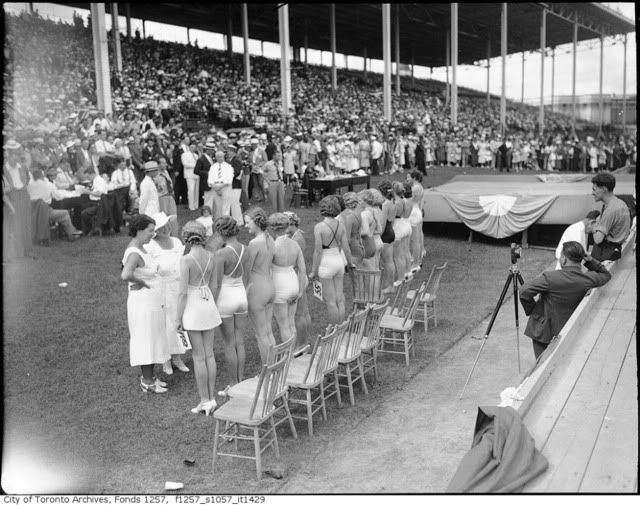 Miss Toronto 1946, modelling the new TTC uniform while strolling along Rhodes Avenue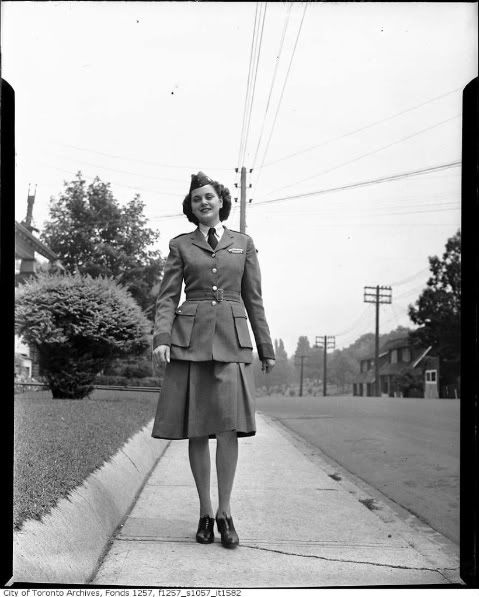 Miss Toronto 1947, held up by a member of the Metropolitan Toronto Police Amateur Athletic Association. Anyone else go to the CNE for the Police Games and watch the tug of war matches between the Toronto and Detroit police teams, see up and coming athletes, music and acrobatic acts, culminating in the crowning of Miss Toronto and parade of police officers? My parents took me during the 60s and early 70s.
Miss Toronto 1947 again, being welcomed by crowds at the Old City Hall (with a weird bus in the background)
The ever-popular Miss Toronto 1947 in the Grand Hall of Union Station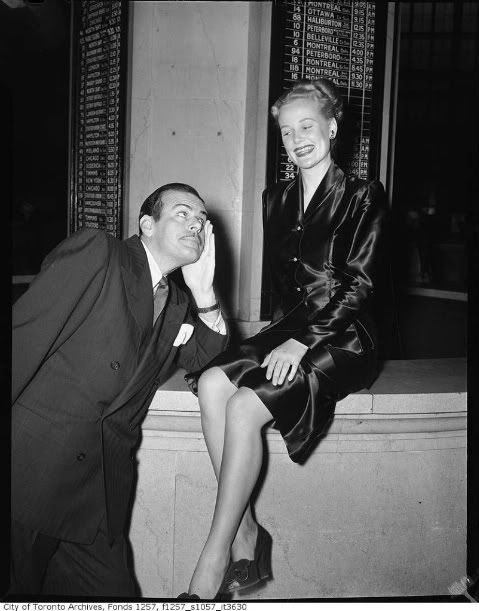 1948 Miss Toronto pageant at the old Woodbine race track, with crowds precariously perched on the upper level and a young gentleman taking quite a risk for a better view
1950 pageant. Sure, BMO Stadium is nice, but I miss the CNE Grandstand...
The tag says this is CNE Exhibition Stadium, but it looks more like old Woodbine to me (1951)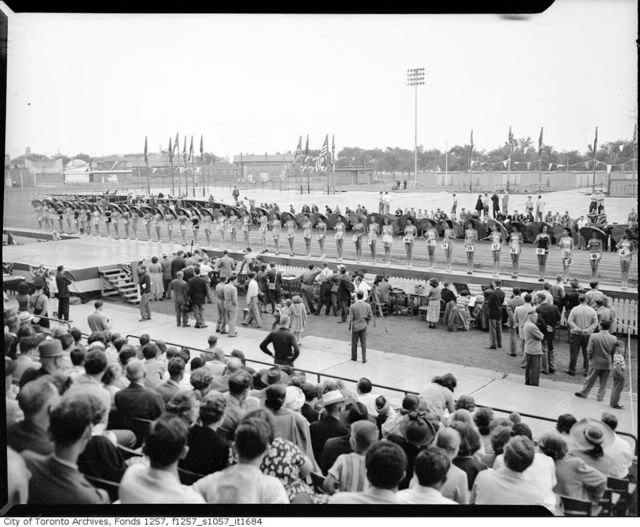 Apparently this is Miss Toronto 1956 at a promo display for a company manufacturing reactors
Miss Toronto 1960 with Mayor Nathan Phillips, a few years before his square
Miss Toronto 1960 looking even lovelier in colour. I remember a huge Sea Queen billboard on the Lakeshore.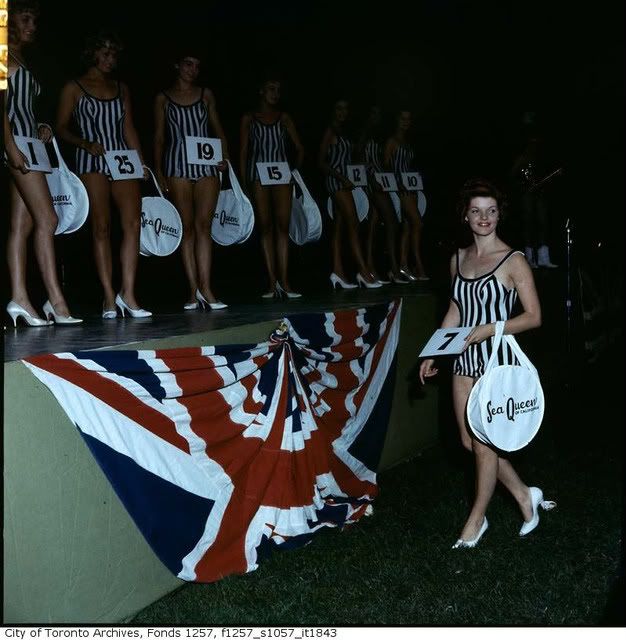 The 1960 police march by, featuring Toronto Women's Auxiliary police (some of whom look like they could be competing in the pageant)
Not Miss Toronto, but who can resist a pic of Harold Ballard with Miss Hamilton Tiger Cat and Miss Winnipeg Blue Bomber? (Hot Stove Club location?)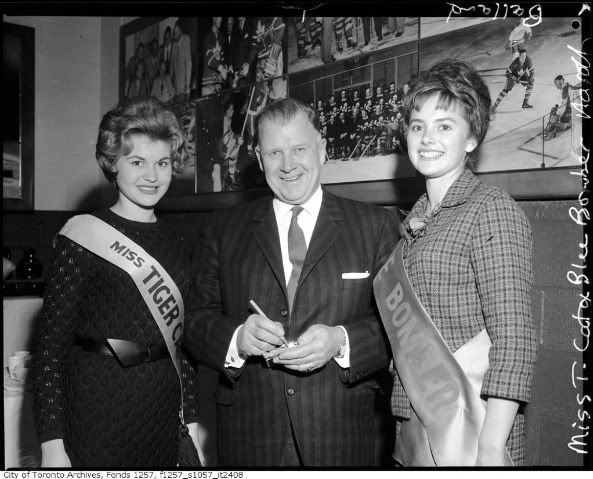 The winner of Miss Toronto would then go on to compete for the title of Miss Canada, obviously another well-attended event judging by the staging required at Maple Leaf Gardens.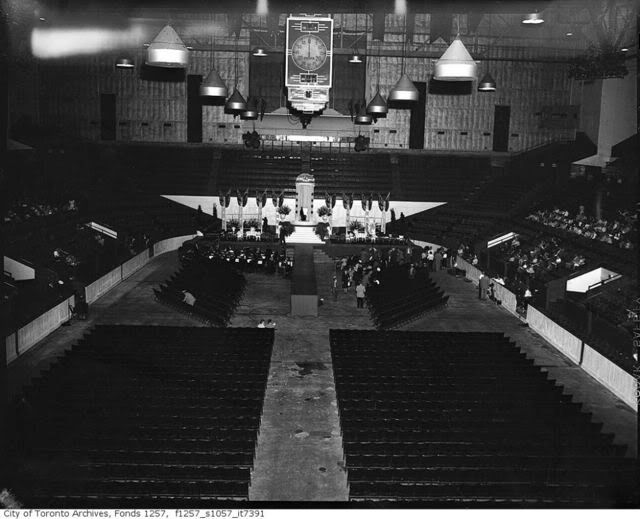 Haven't heard anything about a Miss Toronto pageant in years and according to
Jimmy's Pageant Page
, the last official Miss Toronto was crowned in 1991.
Last edited: