Member Bio
Joined

Jun 30, 2007
Messages

775
Reaction score

0
Warning: This thread if copied may activate EC
...
Courtesy Greenspace
​


By eschewing altogether the tiring polemics of Modernism vs. Historicism, he presents an architecture of wonder without resorting to the bizarre. Note: he is not a formalist, yet he creates form; he is not a functionalist, yet programs are the generators of his solutions; he is not a theoretician, yet ideas dominate his work.

- Jorge Silvetti, Pritzker Juror

This is my second post on an Architect. Based on views not posts – Richard Meier was seen by many that come to this website, most probably the Guests. Meier is a recycle of many things that I have touched on over the years on websites, in essays, teaching and personal experience – I will be concluding it soon with a few more posts – but Koolhaas is someone whom I have a more distant identification.

While I won't discourage comments on this thread, I don't expect any – I doubt that many will be interested in the subject, or my thread on it – but that will not stop me from posting a few of the many interesting architectural works authored by Rem Koolhaas. While I have personal admiration of Meier, and have at least spoken to him four times in my life, both in person and over the telephone. Rem is a person whom I tried twice to meet for an interview, then attempted to get on the telephone, all to no avail. I later found out that this was not an abnormal thing with him, and I was not persistent enough.


left - Courtesy Architecture Week / copyright OMA; right - Courtesy of OMA / Rem Koolhaas

​


I confess that I have never been a fan of all things Koolhaas, rather an observer of his obvious genius and irreverence. There is no denying his influence on architecture. Aside from his buildings, he is surprisingly influential in a number of aspects of architecture. He is arguably one of the greatest influences on Women in architecture, for example, and he has actively involved himself with young African, Asian, American and European architects, as he has gone his own way. Rem does not want copiers or any form of sycophantic bravado, but he encourages creative work, regardless of where it originates, and by whom.


Courtesy Architecture.MNP / OMA / Rem Koolhaas

​


As the quote above aptly puts it, and I re-phrased in the title of this thread: he is neither a Modernist nor a Historicist. He is rather categorized by that now duly overused wording of 'cutting edge.'

From what I know, sorry to say, he is quick tempered and a user of 'blue' language in private. He is also known to be gauche in public and we all know that this extends to print. He is an iconoclast, an eccentric, distant when approached, but he is also challenging and, need I say, most brilliant.

- Zephyr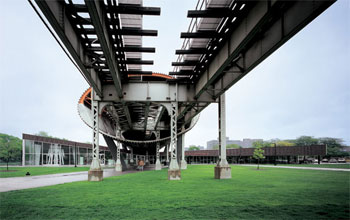 left / right - Courtesy IIT; centre - Courtesy W-A.pl
​
He is the David Bowie of the built environment in everything except personal charisma, and the absence of that, strangely, seems not to matter.


- Hugh Pearman
… more posts to follow …
​
​
Last edited: