Member Bio
Joined

Oct 25, 2014
Messages

4,056
Reaction score

2,929
Location
Scandalous.
To me as chair of the Hamilton LRT Citizen Advocacy (one of the proLRT groups), it saddens me about the vitriol going on between #yesLRT/#noLRT crowds. I can engage diplomatically with many, but this specific move by an unknown individual is... just scandalous.
The NoLRT group has mostly been self-destructing themselves, alas. There are sensible talk and individuals, and areas of concern -- but they have too many toxic individuals that are ruining things. Things like fear mongering -- Flaming Lac Magentic trains -- and desecration of war memorials -- and I witnessed a single individual illegally slip 100 NoLRT leaflets (with fear-mongering items) behind windsheld wipers at a LRT consultation event. They are turning more people against them while trying to grow their ranks one by one. It just all means I'm just going to focus on other important advocacy matters, rather than 'directly' addressing these extreme individuals.
BTW, I had a hand in verbally advising on modifying the design of the #yesLRT buttons (and I'm happy DC83, to include your Gage Rd station, in addition to Delta!) that's now going around. We had a private multi-advocacy discussion on the design, and Cody Lanktree had the winning design that had the most votes)...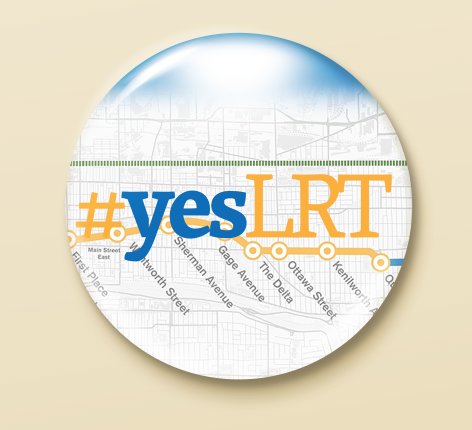 And my city councillor Matthew Green just (unexpectedly)
donated a print run of the #yesLRT posters
that also contain our advocacy group's online feeds at the bottom.
(Mind you: Our group turns down government funding for reputational's sake -- but this is an unexpected donation-in-material in the form of a free print run. And multi-advocacy/group and we'll just have to welcome the wonderful surprise!...)
Last edited: